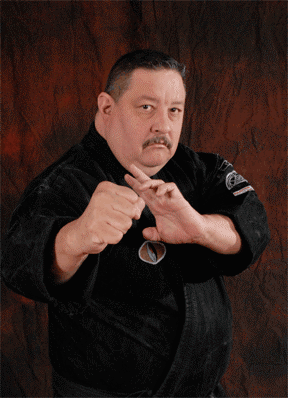 Mr. Frank Trejo's first experience with fighting began at the age of 7, when he started boxing with the instruction of his grandfather, Tony Dean Pina Jr. Grandpa Tony had two other brothers, Ray and Joe who were also very acclaimed to the art of pugilism back in the 1920's and 1930's.
His formal martial arts training began with Shotokan Karate in 1966. Three years later he met and started training with the legendary Ed Parker. Being born and raised in a family of fighters Mr. Trejo was privy to many of the concepts and precepts that Mr. Parker created and devised. It was during the late 70's and through the 80's that Ed Parker would pick Frank Trejo to travel with him for demonstrations, seminars and world tours. As an amateur Kickboxer his record was 14-0. As a Professional Kick boxer, his record was 21-1. He went on to win the California State Kickboxing Title in 1979. He is also an amazing 19 Time International Champion and the first and only Kenpoist to hold the distinction of placing 1st in both Kata and Kumite at the Long Beach International Karate Championships. This feat was accomplished in 1984. In 1985 the corporate world recognized his talent and made him the Coach and Captain of the Budweiser International Karate Team. Read about them in the Black Belt magazine articles.
Throughout his career, he has captured over 400 championships.
In 1985, he began a program called, "Creative Physical Fitness". That program changed the lives of many physically, mentally and socially challenged children with the incredible benefits of the Martial Arts. His unique program has been recognized by many national and local television and news organizations. In addition, this program was the first and only one of its kind to be recognized by Los Angeles County School District as an "Exemplary Program for Education".
He has also worked as a stunt coordinator and as an actor. Mr. Trejo has instructed or been a bodyguard for Van Halen, Jean Claude Van Damme, Lauren Tewes, Billy Idol, David Lee Roth just to name a few. His films include; Pushed To the Limit, Beyond Fear, Personal Vendetta, Painless George, and Deadly Outbreak.
His hobbies include singing and playing guitar and percussion in various blues bands. His professional interests include: The new (IMMAF) International Modern Martial Arts Federation, training and managing fighters, continuing to travel and stay to active in the teachings of Kenpo Karate.
Frank Trejo is recognized as a 10th Degree Black Belt in American Kenpo. His work with Mr. Parker is still being featured in magazines: refer to the August 2001 issue of Black Belt, and recent features in the May 2007 issue of Black Belt, and Masters Magazine Fall issue 2007.