Welcome
Steve Stewart Canada has the most complete martial arts system you'll find anywhere focusing on American Kenpo Karate, Kickboxing, Practical Street Self-Defence, Modern Arnis, Pressure Point Fighting and weapons training. Steve is also the co-founder of IMMAF Canada along with GM Frank Trejo (10th degree American Kenpo). Not only is Steve the highest rank in Canada in American Kenpo, 8th Dan under GM Frank Trejo and 10th Dan in Kyusho Jitsu, he is the Canadian DKI representative for Kyusho Jitsu (Pressure Point Fighting) under GM George Dillman.  In addition Professor Steve has had the privilege to Teach multiple times in 14 countries besides Canada including: USA, England, Scotland, Germany, Austria, Budapest, France, Spain, Denmark, Australia, New Zealand, Amsterdam, and Croatia. Steve's studio is located at 1444 Glenora Drive in London, Ontario.
Follow Us on Facebook and Watch us on YouTube!
3 Kenpo DVD's now Available!
These DVD's are based on the boundaries of Boxing, Kick Boxing, Karate, Judo, and Ground Fighting combined. This 3 disc series was recorded live during a 3-day seminar that GM Frank Trejo held at Steve Stewart's Modern Martial Arts in London, Ontario, Canada in December of 2002. Purchase this set for $49.95! If you order now, you get the Live Action IMMAF 2012 DVD for half Price!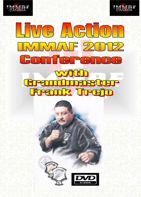 Also available is this Live Action DVD from the 2012 IMMAF Conference for just $25.00.
Contact us to Order Your Set Today!!
Proud members of the International Brotherhood of American Kenpo Karate